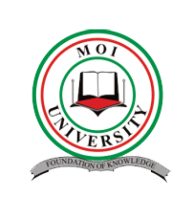 Moi University
Foundation of Knowledge
School of Business & Economics
Vision
To be the university of choice in nurturing innovation and talent in science, technology and development.
Mission
To preserve, create and disseminate knowledge, to conserve and develop scientific, technological and cultural heritage through quality and relevant teaching and research; to create a conducive work and learning environment, and work with government and private sector for the betterment of society.
Diploma in Entrepreneurship
The programme aims at developing Learners with in the context of higher education to provide learners with practical integrated knowledge, attributes and capabilities required in setting up and growing new entrepreneurial ventures.

Download the Flyer:
* Brochure for the Diploma in Entrepreneurship