AHEEN Athletics+Education Model
AHEEN and implementing partners


Photo credit ©Alex Buisse
The AHEEN Athletics+Education model is managed by AHEEN, its implementing member Youth Education & Sports, and collaborating partners World Athletics and UNHCR. Additional partners are now the All4Running School in Kapsabet to which well-performing U20 athletes are transferred to benefit from higher quality education opportunities, and Koitaleel Samoel University, a constituent college of the University of Nairobi, which is developing a Diploma in Sports Science accessible for refugee students as they graduate from secondary school.
The World Athletics-AHEEN collaboration has also developed coaching capacity by encouraging members of the World Athletics-AHEEN project team to go through the World Athletics Coaching Level 1 E-learning course and the extensive practical training in Kenya, supported by Athletics Kenya and the African Athletics Development Center to become qualified as assistant coaches in refugee camps. Additional training has recently been offered by World Athletics to these same coaches to become further qualified as Kids Athletics coaches.
Background – The starting line
2019: Youth Education & Sports, a refugee-led organisation in Kakuma/Kalobeyei hosted the launch of the first running program for refugee youth as part of a social-emotional learning project. The small-scale project included 20 runners aged 14-20.
Its success attracted a 2-year grant from Catalyst Foundation for Education in New York. The objective was to scale the program in Kakuma
The Kakuma program recruited 60 youth (14-28) at two levels, U20 and senior runners, working with two primary schools in the camp
2021 World Athletics approached AHEEN for the development of its U20 Athlete Refugee Team.
The Collaboration Agreement between AHEEN's legal host, the University of Nairobi, and World Athletics was signed and a small grant made available to support 10 runners, 5 male, 5 female in Kakuma, and to prepare them for participation in competitions and ultimately for the U20 Championships in 2024
The Athletics+Education model in a nutshell
The track ahead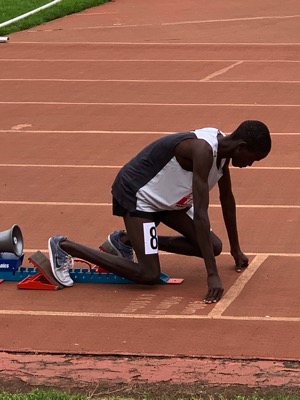 Photo credit @AHEEN
2022 The model has evolved into what is now the Athletics+Education model and has become an integral part of how AHEEN supports students in upper secondary schools to transition to higher education through athletics and develop their running talents alongside their education.

The AHEEN-World Athletics program thus supports Refugee youth to pursue their aspirations in Education & Sports. Athletes are nurtured by Youth Education and Sports (YES) Coaches within the camp and are exposed to training at high altitude during school holidays. 
Combining athletics with high-quality education is crucial to the success of the refugee program, as it demonstrates to participants that they can achieve great things in life despite their refugee status.
The current U20 athlete refugee program started in the fall of 2021 as a collaboration between AHEEN and World Athletics, with assistance from the United Nations High Commissioner for Refugees (UNHCR), Youth Education and Sport (YES), Women Educational Researchers of Kenya (WERK), Athletics Kenya, and the African Athletics Development Center.
Yearbook
The 2022 U20 Yearbook is testimony to how AHEEN's Athletics+Education model opens up new horizons for displaced youth.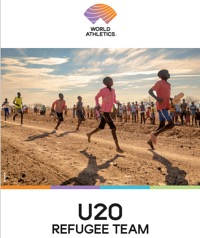 Engage with a presentation on this model made to the ADUN III Colloquium 21 April 2023:
The role of digital education and sports in strengthening refugees' social-emotional well-being